You know it's getting close to Easter when the Marshmallow Peeps show up on the store shelves. This iconic treat of pure sugar has a cult following and there are many ways to use them other than just for getting a sugar high. They now come in all sorts of colors, aside from the original yellow, although I'm a purists.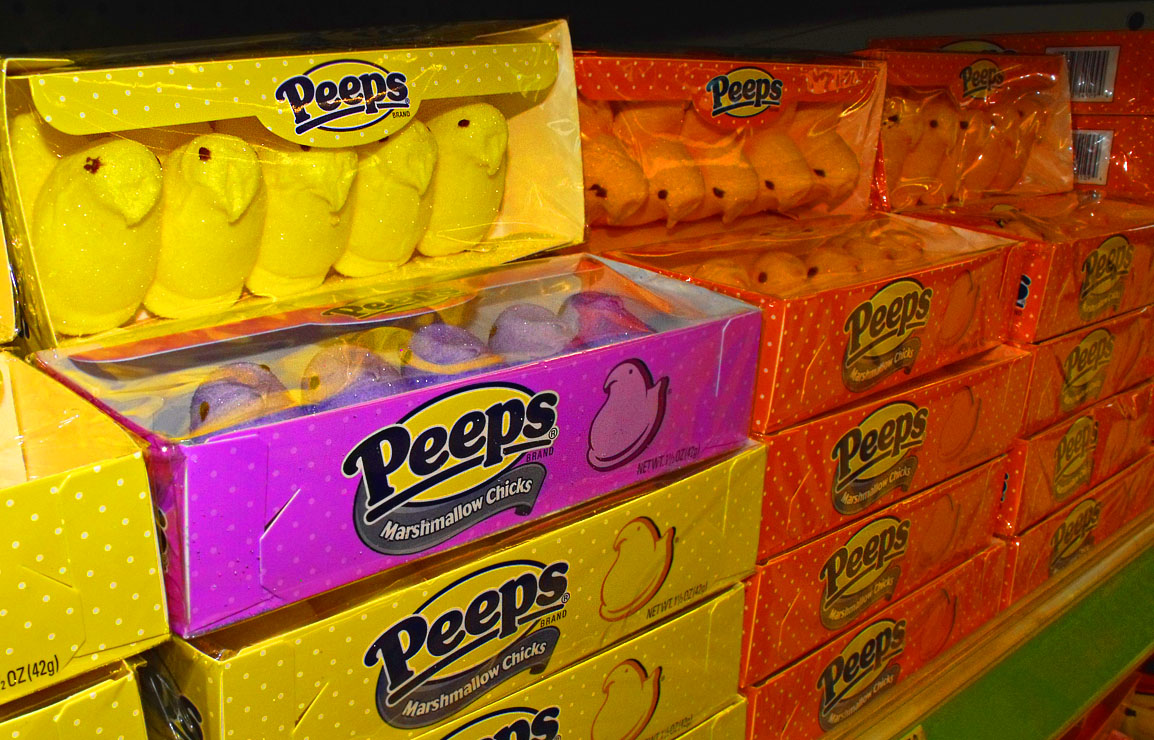 There is a whole website dedicated to Peep Recipes, Peep Crafts, and multiple contests including one from the Washington Post called the "Peep Show" I won't even go to a subject that comes to mind. Heck there is even the official PEEPS Facebook page, well of course, why not?
There is even dog photo contest for Peep fans at the Peep N' Pet Photo Contest. Seeing how most of my work day is taken up with thoughts of dog products and pet product marketing I thought I needed to include that. Honestly, how do they get their dogs from eating the props? I guess I'll have to try that with Brody.
I bought a few to play with, had to eat the chocolate covered one right away.
I do have to confess, after eating a package today at lunch (the above container) I am very sugared out and don't think I'll be eating anything sugary for a while. bleh… I guess I'm not a kid anymore, even though the marshmallows are light and airy, it's nothing but sugar, sugar, sugar. That's why it's once a year for me, no matter how fun they look.
Marshmallow Peeps All Year Round
No longer do you have to wait until Easter to enjoy your favorite marshmallow peeps. Since I wrote this article I have taken notice of all the different types available throughout the year. Just Born now makes  Valentines Peeps, Halloween Peeps and for a limited time Minion Peeps. You can sugar up your kids twelve months out of the year.
Peeps Minions Limited Edition
Marshmallow Peeps Milk Chocolate Covered Chicks
Peeps Mystery Chicks
Peeps 2 Bags Chocolate Creme Mini Chicks
Peeps Marshmallow Chicks with Special Plush (Pink)
Peeps Minis Sour Watermelon Flavor
Wilton Industries 2105-2365 3D Peeps Cake Pan,
Chocolate Dipped Cherry Marshmallow Peeps
Marshmallow Peeps Vanilla Creme Hearts 9ct.
Peeps Snack Size Mini Marshmallow Chicks Halloween
Easter Peeps Information and Trivia
Easter's Peeps hatch to year-round snack
Easter's Peeps hatch to year-round snack. They've been blown up in microwaves. Destroyed in dioramas. And melted into goofy craft projects. But Peeps — those sticky, icky, chick-shaped marshmallow treats common as plastic, pink grass in Easter …
Lynn's little bit of trivia–Lake Worth: Peeps are Comin
Peeps, those gooey marshmallow chick and bunny treats, are a decades old tradition at Easter. Within the last twenty years, PEEPS have become a yearly "pun" artistic movement, with displays and exhibits taking place all …
PEEPS TRIVIA | Weekly World News
This coming Sunday is Easter, and you know what that means: Peeps feast! Get ready by checking out this Peeps trivia. justborn. Peeps' current manufacturer, Just Born, bought the original developer of the candy, Rodda …