It is time to free Tahmooressi from Mexico! Enough is Enough!
On Friday August 1st at 6:00 there will be a Freedom Rally in Omaha Nebraska at Memorial Park. Jill Tahmooressi, Mother of Andrew Tahmooressi, is the featured speaker. I listened to her radio interview on KFAB and it convinced me that my initial thoughts about this young man were accurate.
The more I learn about Marine Sgt Andrew Tahmooressi being held in a Mexican jail while thousands of illegals are crossing the Mexican border smuggling drugs, weapons and the the extremes the United States went through to free Bowe Bergdahl in exchange for five Taliban leaders the more pissed I become.
I've listened and read several accounts of the circumstances behind his wrong turn into Mexico. I've read that his story changed between lawyers, also that he had been to Mexico before. But, this is irrelevant in my opinion. Think about the circumstances and really how accurate are the rumors and the information?
There are a lot of irregularities and inconsistent stories, first there is a language barrier, second the Mexican police is known for being corrupt, and the lawyers he's gotten haven't exactly served him well either. I read the hard to see sign has been replaced since he was taken into custody, there are pages of documents missing from the initial report and an interpreter was not provided to him at the border.  What truth can truly be disseminated from all this?
The facts remain he does not have a criminal record, he stated he did not want to go into Mexico. He declared his weapons. If you don't want him in your country, make him do a U-turn and have him go back to where he started. Do not arrest a citizen of your neighboring country and throw him into a prison where he will be abused and mistreated.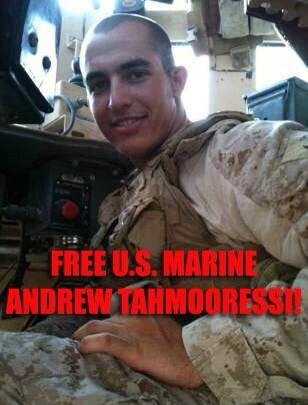 The way I look at it it's time to free Tahmooressi for these reasons.
1. What crime did he really commit? He was at the gate, not "in country" and while I can understand punishing and imprisoning a criminal, who had robed, raped, or murdered someone in their country, I cannot understand this. Andrew Tahmooressi does not have a criminal background. The border patrol should of just refused him entry, contacted the US Border Patrol and let them investigate the situation?
2. How often do Mexican illegals smuggle drugs and weapons into the United States? All the time, how many are caught? Very few. Andres didn't actually smuggle them in, he declared them, if you're smuggling something into the country you don't tell someone about your contraband.
3. He called 911 and tried to get help saying he had crossed by accident. Another question is why didn't the emergency operator try and help him, if his 911 signal still reached and would connect to the American Emergency network why can't you get help, and WHY isn't there an American border patrol at one of the busiest international crossings?
4. The United States sends millions of dollars to Mexico, not only from our government, but via their citizens who work (legally and illegally) in our country and send money back to their families. Mexico is supposed to be one of our allies, a friendly country who is in partnership in NAFTA with us and Canada. Why in the world then can they not release this man?
I have read and heard some people state he's not a Marine, he was a civilian. However, he was on reserve status and actually had a notice to appear to his assigned duty station while he was in the Mexican jail. He had not found a permanent place to live so had all of his possessions in the car.
I will be attending the rally in Omaha, will you?
Information on the Omaha Free Tahmooressi Rally
Additional Information and News
Sgt. Andrew Tahmooressi denied freedom by Mexican judge
Meanwhile, social media posters expressed outrage on GretaWire.com, Greta Van Susteren's blog, on the breaking announcement of Sgt. Tahmooressi's continued imprisonment. One wrote: "FREE TAHMOORESSI! NOW! Obama … Shame on you! You are a …